The Page in honor of my Wonderful 1996 Chevrolet Camaro.
"I love my Camaro" Only about 81,000 miles on it, still doing great 2011.
The 1996 Camaro - Nice sunset for a drive with the tops off.
5-Spd Manual, T-Tops, Bose, Wheels, Tint, Nicely Loaded.

I think what sold me on this car originally was how much it looks like some type of space shuttle.
Overall a powerful, sporty, practical mini-family car (and tow truck.)
It handles very tight yet the ride isn't obscene. Brakes smooth and flat, very minimal nose dive!
The 5-speed manual transmission appeals to the purists of the automotive art and sport.
And can be much more fun to drive.
It features the right wheels, bose cd/amp sub system, upgraded lighting, power doors, windows, Driving Lamps, etc.
Great over the road car that doesn't mind going into town or to the home center.
The 3800 Series II motor is among GM's most popular ever. Gets between 18 - 26 mpg.
Not bad for a car that combines size and power as it does.
Actually I would love to mod it so the rear hatch glass can easily lift off so it would be more of a pickup.
I once hauled an Ikea cabinet in the back(totally closed too) and it fit in a way that would make any current (2011) Camaro
clearly see why the hatchback rocks.
Another reason it's cool is because it's NOT retro. It's more of a hyper aero design.
Features: 3.8 litre 205 hp engine, upgraded dual-port exhaust system, 5-speed manual transmission,
T-tops with great built in factory storage cradle in hatch, Delco-Bose AM/FM/CD player with factory Sub-woofer.
Large storage pockets in doors and in open storage area in dash plus console and glove box,
Cold Air Conditioning, Factory Alarm and power locks, Power Windows, Power Doorlocks, Accesory Lighting Group,
Lit vanity Mirrors, Seats FOUR comfortably (while it may look awkward, if you have four moderate sized
people they would be comfortable even in the rear seats. It's roomier than it looks and with legs
going around the front seats it's good for half hour drives, not daily perhaps.)
Welcome inside the 1996 Camaro. IMHO one of the sportiest basic dashboards out there.
The whole dash curves and morphs together, still pretty much creak free too.
Good material quality. Doesn't spend time baking in the Florida Sun.
Isn't the dashboard so well sculpted. I preferred this to the one they replaced it with.
Was anything clearly better about the 1997 dashboard? I just felt it was more rectangular and more common.
Everything flows right and when you drive the radio buttons and knobs are right next to your shifter - PERFECT.
& it's Bose - Perfecter.
Nice to have a bath nearby.
Smooth and flowing with an elegant venturi-effect rear wing.
The way the cut line of the hatch back is echoed perfectly through the tail lights is
elegant and well sculpted. The third brake neatly sculpted into the tail, the car somehow screams understatement.
I also favor the factory black roof bar, it turns it into a futuristic dome effect.
On a bright day the car is nice and bright inside even if it's totally closed up.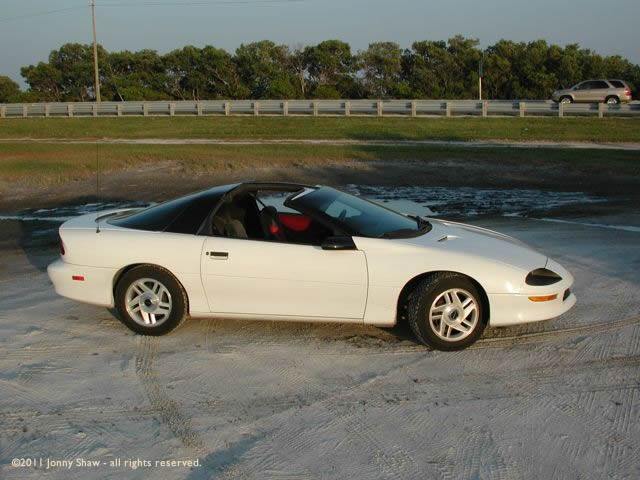 There's the Original BEE!!
And the offical racing flag garage...
A whale of a tail...
Comfy on the inside. (probably still reeks)
Mistah Bell! (so young!)
And Mr. Bell's Camaro (nice work)

©2011 StormDesigns, Inc. and Associates

All

rights

are expressly and exclusively reserved.